Aman Hotel
W. E. El Din
+ 58 GIZA ST Dokki, Cairo, Egypt
( 202-3924271
7 202-3928590
, Click here to send email
03 stars hotel With a Panoramic View of the Nile this deluxe hotel offers comfortable accommodation for relaxing holiday or business trip .It is ideally situated for visitors to the area and has welcoming atmosphere with friendly and hospitable services the hotel has excellent facilities as well as comfortable guest and public areas. Aman hotel located within walking distance from Opera house, the World famous Egyptian museum the City's shopping district business centres and major government ministries the hotel offers breathtaking views of the Nile the Pyramids of Giza and Cairo citadel. A total of 144 guests rooms all rooms are luxuriously furnished and well equipped with individual air conditioning control, color TV with satellite Cable TV. Private bathroom private bathtub mini bar private balconies with majestic views of The River Nile and Cairo Executive restaurant with an astonishing Nile view open for breakfast, lunch, dinner

Garden City House
Sasa
+ 23 Kamal El-Din Salah St ,Garden City, Cairo, Egypt
( 202-7944126 / 2010-5652928
7 202-7944126
, Click here to send email
The Garden City House Hotel is Located in the Heart of cairo with a Nile View Location.just a few minutes walk from the Egyption Museum

Indiana Hotel
W. E. El Din
+ 16, El Saraya St, Dokki , Cairo, Egypt
( 202-3924271
7 202-3928590
, Click here to send email
03 stars hotel The hotel has a swimming pool, all rooms have colour T.V with satellite and international line. The hotel is also proud to offer a 24-hour room service. The hotel got 115 rooms, all with air-conditioning, satellite TV and telephone. A small swimming pool, but as this is not heated - its only open from spring to fall. 24 hour room service, two simple restaurants where the chief can surprise you with a good local flavoured food as international dishes. One of the restaurants are on the roof, and sitting in the open air area here one can get a view to the Nile that runs close by.

Minamar Hotel
Hendy Taha
+ Bawitti Village, Bahariya Oasis, Egypt
( 202-7057586
7 202-7058849
, Click here to send email
Minamar is a 3 star hotel situated in Bahariya Oases –Bahariya is a quiet relaxing and adventure destination-hotel nestled between the majestic pyramid mountain of the western dessert and the beautiful Bahariya lake.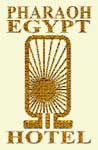 Pharaoh Egypt Hotel www.PharaohEgypt.com
Sherif Soliman
+ 11 Ahmed Orabi St., Mohandesseen, Giza, Cairo, Egypt
( 202-3471619 / 3471628 / 3471629
7 202-3047357
, Click here to send email
The Hotel Pharaoh Egypt is located in the heart of downtown Cairo Egypt, 17 kms from Cairo International Airport. Sight seeing and tour programs available.